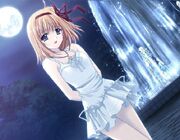 "No fair I want to enter a tournament too!" - Rosey Hiwatari
Rosie Hiwatari

Occupation-

Beyblader

Family-

Kai Hiwatari (Father)

Stephanie Towa (Mother)

Gou hiwatari (brother)

Blood type-

A

Gender-

Female

Bitbeast-

Rayquaza

Age-

5

Voice actors-

No information
Rosie is the daughter of Kai Hiwatari and Stephanie Towa . Her beyblade and bitbeast is Rayquaza that her mother gave to her. Her older brother is Gou Hiwatari.
Apperance
Rosey is a younger version of Stephanie except with Kai's eye color. She wears a light blue dress and has a red bow in her hair. She also wears brown shoes.
Personality
She has a shy personality when meeting new people, but she also loves beyblading like her parents.
Bitbeast/Beyblade
Rayquaza is a bitbeast/beyblade that belongs to her mother.