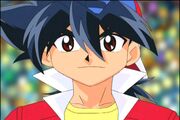 Tyson Granger

Original name-

Takao Kinomiya

Dub name-

Tyson Granger

Age-

13 (Beyblade)

14 (V-Force)

15 (G-Revolution)

Team-

Bladebreakers

Bitbeast-

Dragoon

Family-

Hiro Granger (Brother)

Ryu Granger (Grandfather)

Yoshie Kinomiya/Granger (Mother)

Tatsuya Kinomiya/Granger (Father)
Tyson Granger is the # 1 Beyblader in the world, he is the younger brother of Hiro granger. 
He owns the Beyblade and Bitbeast Dragoon .
Personality
Tyson is a strong-willed kid who is not afraid to speak his mind and in so doing, he seems to get into more trouble than most kids his age.
Gallery